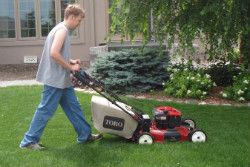 If you need a new more modern design of your garden in Tottenham or just need help in maintaining it, we are one of the most trusted gardening companies in London. There are a number of gardening services we provide, which are affordable for all Londoners. If you need a gardening design we can offer you more contemporary or a traditional style. We can look after your garden one off or weekly, fortnightly or monthly.

Our gardeners can sow, water and mown your lawns, seed the flowers and trees you want, shape and cut the surplus branches of bushes, install fences, create paths and provide the whole maintenance of your garden. They will also collect the garbage and throw it from your garden, clean your yard from stones, broken and fallen branches and other unnecessary waste. This way will be freed more space in the garden and the landscape will look vaster.
"I enjoyed having your guys at my garden. They seemed experienced and friendly. I am impatient to see all flowers they planted in blossom." – Shannon
Gardeners Tottenham
If the trees in your garden are preventing your house from sunlight or intercept the view from it, we can trim some of the longer and taller branches. We can make your trees' crowns more loose and shorter, exactly the way you want them to be. Our skilled gardeners can help you choose a design for your garden. They can create an inner court inside the garden and let you choose the type of paving you prefer. Other gardening work they can do successfully is hedge trimming and clearing the weeds from the soil. These are very laborious and difficult garden activities. After shaping the plants in your garden your back or front yard will look fantastic so call us now and check our prices.
Cleaning Services in Tottenham
Upholstery Cleaning Tottenham
End Of Tenancy Cleaning Tottenham
Carpet Cleaning Tottenham
Deep Cleaning Tottenham
Domestic Cleaning Tottenham
Oven Cleaning Tottenham
Office Cleaning Tottenham
After Builders Cleaning Tottenham
You will receive the best lawn care if you use our gardening services. Our gardeners in Tottenham will cut the grass, seed turf and fertilize the soil. CleanersTottenham have the most powerful machines and tools, that achieve very qualitative gardening work. All the garden wheels, knives, scissors and the gardening machines are specially selected and of utmost quality. They are designed to perform excellent gardening services. We offer our gardening for both residential, public and commercial purposes. So if it is concerned a private company's, personal, family or public garden in the park, for us it isn't important. We will equally take care of them. Book us now!